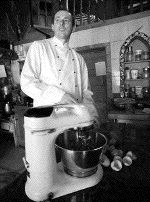 Meeno Meijer, National Post
Ontario's most unlikely gourmet restaurant has been named one of the top 10 in the world.
Eigensinn Farm, near Collingwood, offers a decidedly different dining experience, according to Restaurant magazine, which is aimed at gourmets. It was ninth on the list, just behind a famous London eatery.
You won't need a jacket or tie to dine at Eigensinn Farm, but it's a good idea to wear rubber boots because the path to the front door is speckled with chicken droppings. There's no air conditioning, they don't take credit cards, and the restaurant does not have a liquor licence. (But you can bring your own bottle of wine.)
However, the farm/restaurant belongs to a renowned chef, Michael Stadtlander, and reservations must be made months in advance.
The restaurant only serves dinner twice weekly to a maximum of 12-15 guests.
Eigensinn Farm is named for an obscure Herman Hesse novel. The name translates roughly as "find your own path," which is what Mr. Stadtlander has done.
Mr. Stadtlander, who is German-born, has cooked at some of the finest five-star restaurants in Toronto.
But 10 years ago, he and his Japanese wife, Nobuyo, decided to leave the city and raise their family on a 100-acre farm close to Creemore, a 20-minute drive from Collingwood on the shore of Georgian Bay.
The restaurant began to attract attention in 1997 when a glowing review appeared in The New York Times.
Mr. Stadtlander uses his own farm vegetables, fruits, Muscovy duck, rabbits and pigs.
Dinner is a no-choice, six-course menu that costs $90 a person, not including tip and taxes.
A typical set menu offers raw tuna, foie gras, pigeon and rack of venison.
Clients who have landed a reservation must call three days before coming. Mr. Stadtlander then tells them exactly what the meal will be, so they can chose appropriate wines.
Critics and reviewers have sometimes criticized the rustic nature of the restaurant, but have often been effusive about the fare provided.
"Having warned you of the rough edges," one reviewer concluded, "I can also say we had a great meal."
The restaurant is currently closed, while the family is on vacation.
In compiling its list, the magazine asked 50 people with an inveterate interest in food and travel, including several chefs, to name their best-in-the-world restaurants.
Most avoided New York and Tokyo in favour of far-flung places well off the beaten track.
El Bulli, the magazine's top-rated restaurant, is in a small village in Spain's Costa Brava. The waiting list for a table at that restaurant is said to be a year.
WORLD'S TOP 10:
Restaurant magazine's picks were:
1. El Bulli -- Rosas, Spain
2. Gordon Ramsay -- Chelsea, London
3. The French Laundry -- Napa Valley, Calif.
4. Rockpool -- Sydney, Australia
5. Spoon -- Mauritius
6. Auberge De l'ill -- Alsace, France
7. 1884 -- Mendoza , Argentina
8. The Ivy -- London
9. Eigensinn Farm -- Collingwood, Ont.
10. Tetsuya -- Sydney, Australia